We are a full service quilt store with a wide variety of fabric genres to choose from as well as classes, books, patterns, quilt kits, umbrella supplies and select clothing patterns. We are a full service Bernina dealer with an in store technician.

Thanks for visiting!

Please go to Calendar tab on top and check for any calendar updates. Thank you



Please remember for a class to go most teachers require a weeks notice that the class has the minimum 3/4 students that have paid for the class.

There are no refunds on a National Teacher, you may find someone to fill your spot. If there is a wait list, we may be able to fill it for you.



WARRANTY: All repairs are warranted for 90 days from the date of service. Though 99 of 100 sewing machines are repaired without incident, please be certain to sew with your sewing machine prior to the end of the warranty period, as no exceptions for reparations will be made beyond the initial 90-day warranty period.








February Calendar coming soon.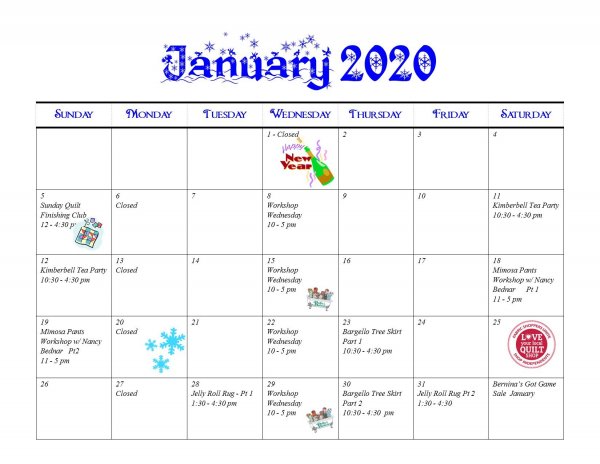 Print January Calendar

here

.